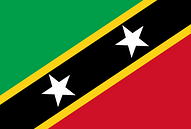 Independent
Yes
Country codes
KN, KNA (ISO 3166-1)
Official name
Federation of Saint Christopher and Nevis
Capital city
Basseterre
Continent
North America
Member of
United Nations, Commonwealth of Nations, Organization of American States, Caribbean Community
Population
52 823 (2019)
Total area
261 km2
Highest point
Mount Liamuiga on Saint Kitts (1 156 m, 3 793 ft)
Lowest point
Caribbean Sea
GDP per capita
$ 19 829 (World Bank, 2018)
Currency
Eastern Caribbean dollar ($, XCD)
Calling code
+1869
St Kitts & Nevis Citizenship by Investment
Since its inception in 1984, the program has been attracting people from around the world to invest in the country's economy in exchange for an irrevocable passport and citizenship and operates on the following constitutional, legislative and regulatory foundations:
Citizenship of Saint Christopher and Nevis is governed by Chapter VIII (Sections 90-95) of the Constitution of Saint Christopher and Nevis.

In 1984, pursuant to Section 92 (1) (h) of the Constitution, Parliament prescribed that such other persons who would be entitled, upon making an application, to be registered as citizens. Accordingly, Section 3 (5) of Saint Christopher and Nevis Citizenship Act, 1984 (No. 1 of 1984) makes the following provisions:
"Subject to subsections (8) and (9) of this section, a person is entitled, upon making an application under this subsection to the Minister in the prescribed manner and upon payment of any fee that may be prescribed, to be registered as a citizen of St. Christopher and Nevis without any rights of voting save ST. KITTS AND NEVIS – CITIZENSHIP BY INVESTMENT 2 of 3 under and in accordance with the provisions of any law governing the qualification of voters, if the Cabinet is satisfied that such person has invested substantially in St. Christopher and Nevis."
The Government determines, by Cabinet Decisions, which projects and which amounts of investment shall qualify as a "substantial investment" and thus lead to eligibility under the Citizenship-by-Investment Program.
St Kitts & Nevis Citizenship by Investment Application
In order to apply for the St kitts and Nevis Citizenship by Investment program you have to either;
make a contribution to the National Transformation Fund (NTF) starting at $18,000 for a single applicant

make an investment of at least $150,000 in a government approved project. The property must also be held for a minimum of 5 years. Government fees and Due Diligence fees apply for the real estate option

invest at least $200,000 in an approved business as an individual or $1,000,000 as a group
St Kitts is covered in black and gray sand beaches, while sister island Nevis is nearly unspoiled in its natural splendor. Coral reefs surround the islands, beckoning swimmers and snorkelers from all over the Caribbean.
The capital city of Basseterre is home to one of the most prominent medical schools in the Caribbean: University of Medicine and Health Sciences. UMHS also has regional offices throughout the United States.
While tourism and agriculture have always been the main industries in this island state, the St Kitts Citizenship by Investment program founded in 1984 has also become another pillar in the economy in recent years. With a range of programs offered to fulfill the needs of applicants from all backgrounds and nations, you can now apply for your citizenship by investment and St Kitts second passport with seamless assistance from the professionals at Pivot Citizenship.
There are regular scheduled flights to and from the USA, Canada, UK and Italy.
St Kitts & Nevis Citizenship by Investment - What You Need To Know
Before you consider applying for the St Kitts & Nevis Citizenship by Investment program, there are a few things to be aware of. Applicants must;
be of outstanding character

be in good health

have no criminal record

be of high-net-worth

maintain property for 5 years (real estate option)
And the benefits;
Fast processing time

Low investment required

All nationalities can apply

No requirement to visit for interview

Family can be covered by application

Only residency requirements are minimum of 5 days during first 5 years

Naturalisation of future born children

Tax benefits
Contact us for more Information
For more Information on St. Kitts & Nevis Citizenship, Please fill our Contact form and one of our specialist advisors will be in touch, or reach out to us by clicking the button below