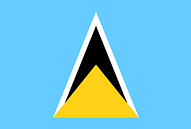 Independent
Yes
Country codes
LC, LCA (ISO 3166-1)
Official name
Saint Lucia
Capital city
Castries
Continent
North America
Member of
United Nations, Commonwealth of Nations, Organization of American States, Caribbean Community
Population
178 696 (2018)
Total area
616 km2
Highest point
Mount Gimie (950 m, 3 117 ft)
Lowest point
Caribbean Sea
GDP per capita
$ 10 315 (World Bank, 2018)
Currency
Eastern Caribbean dollar ($, XCD)
Calling code
+1758
Saint Lucia Citizenship by Investment Program
The Saint Lucia Citizenship Act passed both houses of Parliament in August of 2015. The regulations regarding Citizenship by Investment in Saint Lucia are contained in Statutory Instrument No.89 of 2015. The Act enables individuals and families to acquire Saint Lucian citizenship upon making a qualifying investment.
Saint Lucia Citizenship by Investment Application
Under the Honorary Citizenship Act [CAP 112] of Saint Lucia, honorary citizenship can be obtained by donation through the Development Support Program (DSP). The Overseas Investor will introduce you to our designated Agent for the Saint Lucia Support Program.
On 1st August 2015, Regulation Order No. 89 and 90 of 2013 came into force, granting honorary citizenship by investment in Saint Lucia to foreigners who make certain economic contributions to the Government's Development Support Program
Saint Lucia citizenship is an extremely simple and quick process; donate a non-refundable lump sum to a specific Government fund (DSP):
A single applicant – $20,000

A married couple – $35,000

A family of four – $65,000
Watch this space…..we will soon be launching the Saint Lucia Citizenship by Investment program – Real Estate option.
Saint Lucia is an island country located in the Eastern Caribbean and forms part of the Lesser Antilles. It is a parliamentary democracy with Queen Elizabeth II as its head of state. Today, Saint Lucia is a full member in the Commonwealth of Nation (British Commonwealth), United Nations, and the Caribbean Community (CARICOM).
Due to its strategic location and abundance of natural resources, Saint Lucia was a target for French and British settlers who frequently battled over rule of the island until Saint Lucia finally gained its independence in 1979. Saint Lucian culture is very rich with influences of Carib Indian, African, English, and French heritage. With a population of 178,000, Saint Lucia is the 11th most populous country in the Caribbean, with one third of its population residing in the capital Castries.
Saint Lucia is blessed with natural beauty due to the country's spectacular setting and breathtaking nature. The result is a robust tourism industry that attracts approximately 350,000 visitors each year. A major reason contributing to the growth of Saint Lucia's tourism industry is the country's international airport which is served by regular international flights from the USA, Canada, and Europe. Apart from that, the introduction of the St Lucia citizenship by investment program in 2015 has also played an important role in the booming economy of the country.
Saint Lucia Citizenship by Investment - What You Need To Know
Before you consider applying for the Saint Lucia Citizenship by Investment program, there are a few things to be aware of. Applicants must;
You must provide proof of net personal assets no less than $50,000, of which, at least $10,000 should be banking assets.

You must have a clean criminal record.

You must be of high standing in your community, society, or country.

You must not have lived in Iran, Iraq, Syria, North Korea, or Yemen for the past five years.

You cannot be on any sanctions lists worldwide.
And the benefits;
Fastest and easiest processing time (30 to 60 days)

The most competitive pricing

Before transferring the full investment amount, you receive a pre-approval confirmation

Visa-free travel to 129 Countries and territories – Europe, UK, Russia, Hong Kong, Singapore

Saint Lucia Citizenship is for lifetime and can include all the family.

No interview and no mandatory travel is required during application process.

No personal taxation; no wealth taxes, inheritance taxes, gift taxes or income taxes. No residency requirements

International off-shore finance centre. International Banks present.

Simple company and bank account formation procedures

Easier and quicker access to Commonwealth countries, such as Australia, Canada, and New Zealand.
Contact us for more Information
For more Information on Saint Lucia Citizenship, Please fill our Contact form and one of our specialist advisors will be in touch, or reach out to us by clicking the button below