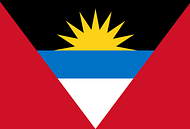 Independent
Yes
Country codes
AG, ATG (ISO 3166-1)
Official name
Antigua and Barbuda
Capital city
Saint John's
Continent
North America
Member of
United Nations, Commonwealth of Nations, Organization of American States, Caribbean Community
Population
96 453 (2019)
Total area
442 km2
Highest point
Boggy Peak on Antigua (402 m, 1 319 ft)
Lowest point
Caribbean Sea
GDP per capita
$ 16 727 (World Bank, 2018)
Currency
Eastern Caribbean dollar ($, XCD)
Calling code
+1268
Antigua and Barbuda Citizenship by Investment
The Antigua and Barbuda Citizenship by Investment Program is one of the top ten CBI programs in the world as listed in the Citizenship by Investment rankings of 2020.
Benefits of the Antigua and Barbuda Citizenship by Investment program include visa-free travel to 150 countries including the Schengen States, the UK (6-month stay), Hong Kong and Singapore as well as tax benefits and low government fees for families.
Antigua and Barbuda Citizenship by Investment Application
In order to apply for the Antigua and Barbuda Citizenship by Investment program you have to either;
make a contribution to the National Transformation Fund (NTF) starting at $50,000 for a single applicant

make an investment of at least $200,000 in a government approved project. The property must also be held for a minimum of 5 years. Government fees and Due Diligence fees apply for the real estate option

invest at least $1,500,000 in an approved business as an individual or $5,000,000 as a group
Antigua & Barbuda is an island sovereign state in the West Indies, a member of the Commonwealth and lies between the Caribbean Sea and the Atlantic Ocean.
It is made up of the two major islands and smaller islands which include York Islands, Guiana, Great Bird, Green, Long, Maiden and the island of Redonda, which is uninhabited.
The population of permanent residents is around 95,900 (2018). 97% of the residents reside on Antigua. The capital is St. John's on Antigua. Codrington is the largest town on Barbuda.
Antigua & Barbuda is the hub of the Eastern Caribbean. With some 365 beaches of clean turquoise waters (one for every day of the year). The islands are an inviting paradise and tourism generates around 60% of the island's income, with key target markets being the US, Canada, UK and Europe. Average temperatures range between 23°c and 30°c.
There are attractions aplenty, from St John's pastel-washed waterfront restaurants to the yachtsman's paradise and Georgian charm of Nelson's Dockyard. Then, there's the pleasure of golf at the Cedar Valley Club, a variety of casinos, scuba diving over coral reefs, deep-sea fishing and water sports, tennis, cycling, horse riding, rainforest hiking and much more.
Antigua is a world-famous yachting destination with many international events, such as Sailing Week and the Antigua Classic Yacht Regatta.
There are regular scheduled flights to and from the USA, Canada, UK and Italy.
Antigua and Barbuda Citizenship by Investment - What You Need To Know
Before you consider applying for the Antigua and Barbuda Citizenship by Investment program, there are a few things to be aware of. Applicants must;
be of outstanding character

be in good health

have no criminal record

be of high-net-worth

maintain property for 5 years (real estate option)
And the benefits;
Fast processing time

Low investment required

All nationalities can apply

No requirement to visit for interview

Family can be covered by application

Only residency requirements are minimum of 5 days during first 5 years

Naturalisation of future born children

Tax benefits
Contact us for more Information
For more Information on Antigua & Barbuda Citizenship, Please fill our Contact form and one of our specialist advisors will be in touch, or reach out to us by clicking the button below